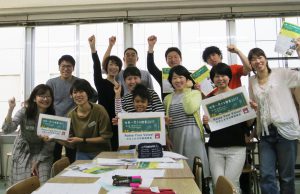 "Hokkaido YMCA" which is one of a menber of the RCE Hokkaido Central cooperated to hold "The World's Largest Lesson" (date: April 15, 2017, hosted by Japan NGO Network for Education). I joined it then would like to report briefly here.
"The World's Largest Lesson" is… a worldwide campaign to achieve "goal 4 = educational goal" of "Sustainable Development Goals (SDGs)". This goals are not only for Developing countries but also these are for developed countries. It is very different point between the "Millennium Development Goals :MDGs" and SDGs.
Almost participants were school teachers. They had experienced to join JICA volunteer. They know what is going on overseas, especially in a developing country. So they feel it is very important to tell a relationship between those countries and our living.
But I heard school teachers have some challenges when they try to teach like this kind of things. They said,
・We don't have enough time to do "development education" because our schedule of a year has no vacancy.
・It is difficult to tell why we need "development education" to some colleagues who doesn't have interesting about "development education".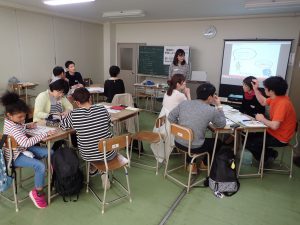 This program "The World's Largest Lesson" is very interesting and easy to understand how relate us and world.
It is better to arrange for contents this program each regional. Then it will be more useful for students in our region and easy to tell why we need to do "development education" to many teachers, I think.
As RCE Hokkaido Central, we might better to think to make education tools which can tell many challenges of Hokkaido. And also, it's better to make oppotunities for knowing about various social problems in various chances.
Secretary General : Arisaka Miki